People and Culture Coordinator (Learning & Talent) -12 Month Contract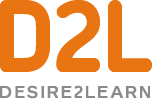 D2L
People & HR
Kitchener, ON, Canada · Remote
Posted on Saturday, April 29, 2023
D2L is a cloud company that is modernizing education and building the Future of Work. The old models of teaching and learning are in the midst of the largest transformation in history, and D2L is at the heart of that fundamental shift.
New models of teaching and learning enable a personalized, student-centric experience – and deliver improved retention, engagement, satisfaction, and results for learners of all ages – in schools, campuses, and companies.
D2L is disrupting the way the world learns, by providing the next generation learning environment and solutions to engage and inspire learners. And most importantly, by giving customers a platform that is easy, flexible, and smart. No other company provides a solution as robust and innovative as D2L.
D2L has had a singular mission for 20 years and is dedicated to that same mission in the years ahead: to transform the way the world learns – and by doing so, we will help improve human potential globally.
A member of our Talent Acquisition team reviews ALL of our applications - yes a real person reviews resumes! They are excited to read more about what amazing things you could add to D2L.
The People & Culture Coordinator (Learning & Talent) will have the opportunity to work cross functionally supporting a variety of People & Culture activities and initiatives across the team. The coordinator will proactively contribute to helping us continue to improve our employee experience at every stage of the employee journey from onboarding through to offboarding! You are someone who enjoys putting things in order, loves processes and finding more efficient ways to work, who is not afraid to roll up your sleeves and take on new tasks and run with them, strives to deliver awesome outcomes no matter how small or big the ask, who can juggle competing priorities without breaking too much of a sweat, and who has an eye for detail.
In particular, you will play a key role in the coordination of activities to support the onboarding of new D2Lers, acting as a key point of contact for new employees and ensuring a positive new hire experience. The role also supports a number of employee learning and development programs as well as, leading and contributing to Diversity, Equity and Inclusion initiatives. This position also supports other People & Culture operational and administrative processes such as data input, analysis and reporting, responding to employee inquires and
You are someone who enjoys putting things in order, loves processes and finding more efficient ways to work, who is not afraid to roll up your sleeves and take on new tasks and run with them, strives to deliver awesome outcomes no matter how small or big the ask, who can juggle competing priorities without breaking too much of a sweat, and who has an eye for detail.
If you're looking for a fast-paced, challenging and fun People & Culture opportunity, this position is for you!
How Will I Make an Impact?
Partnering with our Learning & Development and Talent Management team on learning, talent development and diversity, equity and inclusion (DEI) initiatives including but not limited to:
Facilitation of biweekly onboarding sessions for new hires
Coordinate and track employee onboarding activities/enrollments/completion of courses
Respond to new hire onboarding course access questions and general inquiries
Provide coordination and scheduling support for D2L learning programs
Assist with initiatives aimed to support employee career growth, development, and internal mobility examples include:

Approve learning program requests and follow up on outstanding approval requests
Assist in creating employee mobility spotlights, regular program spotlights, Catch the Wave employee testimonials
Ownership and administration of learning calendar
Scheduling and coordination of learning programs and activities
Administration of quarterly 360 assessment process

Providing coordination for diversity, equity and inclusion focused learning sessions and events
Maintain ownership of D2L Inclusion Calendar
Provide support to D2L Employee Resource Groups
Support the creation of talent, DEI or learning related toolkits, communications, newsletters and other enablement resources for employees and people leaders
Research best practices and trends on learning, talent strategy and DEI related topics
Completing exit interviews for departing employees, summarizing and sharing and recommendations and feedback
Assist with the creation of process documentation, templates, checklists and standard operating procedures for various processes, recommending process efficiencies where possible to drive continuous improvement
Assisting with learning and talent related data analysis and reporting
Provide back up support for our People and Culture Systems and Services team, assisting with various administration duties, projects, or initiatives
Act as a backup for processing employee resignations
Assist with HRIS maintenance, running ad hoc reports, updating employee information/records, and updating files, and other duties as required
Administer HR-related documentation; including drafting employee letters/verifications/employee changes, filing, and other general office admin activities
Respond to general employee inquiries through our AskPnC email accounts
Contributing to team projects and other duties as required
What you'll bring to the role?
Operationally focused with strong problem-solving skills and the with the ability to find creative solutions and incorporate them into new practices/process improvements
Exceptional organizational and time management skills; strength in organizing and coordinating multiple activities and prioritization of tasks
Experience with qualitative and quantitative data reporting
Strong communication skills (written and verbal)
Experience with DEI, learning and development or related program coordination preferred
Understanding of DEI best practices
Excellent attention to detail
Agility - ability to respond comfortably to new or shifting priorities and goals
Ability to work autonomously and take ownership for deliverables
Knowledge of general HR procedures and practices including but not limited to employee information/records administration and handling of confidential or sensitive information
Working knowledge of MS Office (Outlook, Word, Excel, PowerPoint)
Don't meet every single requirement? We strongly encourage you to still apply! At D2L, we are committed to creating a diverse and inclusive environment. We encourage your application even if you don't believe you meet every single qualification outlined, because we love to help our people grow and develop!
Why we're awesome:
At D2L, we are dedicated to providing you with the tools to do the best work of your life. While some of our perks and benefits may vary depending on location or employment type, we are proud to provide employees with the following;
Impactful work transforming the way the world learns
Flexible work arrangements
Learning and Growth opportunities
Tuition reimbursement of up to $4,000 CAD for continuing education through our Catch the Wave Program
2 Paid Days off for Catch the Wave related activities like exams or final assignments
Employee wellbeing (Access to mental health services, EFAP program, financial planning and more)
Retirement planning
2 Paid Volunteer Days
Competitive Benefits Package
Home Internet Reimbursements
Employee Referral Program
Wellness Reimbursement
Employee Recognition
Social Events
Dog Friendly Offices at our HQ in Kitchener, Winnipeg, Vancouver and Melbourne.